Ministry History
Faithbridge Community Ministries launched in June of 2005. It started with a weeklong Summer Camp for kids. (This would prove telling!)


But how?

How did it happen? God. That's the only answer.
See, Pastor James Hogan and his wife Teressa were doing inner city ministry in Linda Vista, CA (part of the city of San Diego) and Pastor Hogan worked as a manager for Starbucks.
David Christopher and his fiancee (now wife) Annie were doing youth ministry in Mira Mesa, CA (another part of San Diego) and working for Starbucks.
Throughout 2004, God put a burden on the Hogan family for the Pittsburgh area, showing the need for Christ's love to shine into some of the harshest places in the region. God revealed the former McKees Rocks Terrace (now known as Meyers Ridge)--an area decimated by economic collapse, violence and drugs for years--as the launching point for this new work.
In late 2004 the Hogans let their friends and neighbors know that they would be moving to Pittsburgh to plant this new work and began a prayer team to lift up the entire work.
In early 2005, David and Annie Christopher--just weeks from their wedding--let the Hogans know that God had prayerfully led them to join in starting this new work in Pittsburgh.
In March of 2005 (the 12th to be exact) the Hogans along with their 3 boys, rolled out of San Diego and heading to their new town.
A month later, David and Annie, now married, followed suit.
Both families lived together for the first 7 months of the ministry while trying to secure homes in the very community where they'd been called to labor.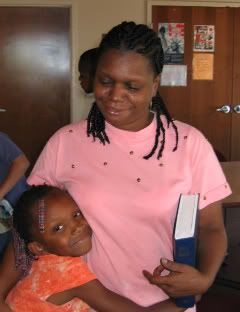 God's redemptive history being written today

During that time, the ministry began. Wonderful relationships were started within the neighborhood and kids, by the dozens, began to hang out at the Hogan's home. Families began to seek out the ministry for help and counseling... and the ministry team began to get a feel for what the true conditions of the area were.
The process of identifying just what God would have Faithbridge do started there. Ministries were added as needed, efforts were launched engage the youth and the ladies (the immediate community is more than 90% single mothers) and successes started happening.
Many have come to know Christ and found the peace and surety of salvation. In the first 3 years dozens of people were baptized. The police reported in April of 2008 that the transfomation in the community has been amazing...
And bigger, better things lay ahead. God's reaching into multiple neighborhoods through this ministry--and we're actively recruiting to find ministry teams that will move into similar areas throughout the region and begin this type of life transforming work.
And we trust that God's hopes and dreams for these troubled town are God-sized and will bring amazing, glorious transformation to many places in the years ahead.