Love God... Love Others... Serve in Love!
Faithbridge Community Ministries
exists to bring hope and healing to those who live in urban Pittsburgh. 
Our area--known locally as Sto-Rox--was left behind when the steel industry collapsed in the late 1970s, has been in dire need of good news. And God has it.
Faithbridge has become an integral part of the community, sharing the lifesaving, life-transforming gospel of Christ, and reaching out into the community with the hearts of those God's grabbed ahold of over the past few years.
We've been blessed to see many folks awed by God's love. During the season just past we baptized 17 folks at our annual block party, as they got the chance to proclaim their love of God in front of the community. And we've got more baptisms scheduled for next month.
The successes aren't just "churchy" things, but real relationship and support, genuine outreach to the community with the empathetic heart of God's grace and mercy, and help making real world gains in areas of folks' lives like parenting, life skills and momentum.
Faithbridge is multi-cultural, by God's design. Our community is multi-cultural, and we're reaching our community, so we are too.
The work is labor intensive... but it's a labor of love. As there's not an abundance of resources here, we do rely on the love, prayers and support of folks who love and cheer for the work that's going on here.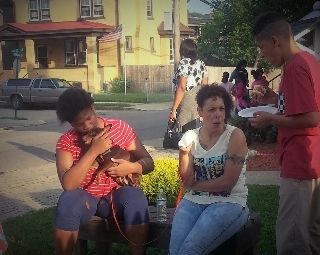 Women, Children and Hope

The breakdown of the family structure in inner city areas is staggering. And the fallout from it is devastating.
For most girls having no father in their home to look up to means no model of how a wife and mother should be treated, no expectation that they'll have a husband committed to raising their children together, no thought that someday they'll be married and out of poverty.
For most boys having no father around means having no one to teach them how to become real men of integrity and fidelity. The boys, hungry for direction, look to older boys who had no one to teach them either--and end up with unhealthy beliefs about what it means to be a man... and usually a lot of trouble.
The Moms? They're heroic. But they're hanging on by the skin of their teeth. Poor and overwhelmed, unable to accomplish all that needs done on their own, they labor to exaustion--but they're constantly losing ground. Bills pile up, they can't supervise the kids while they're out trying to put food on the table, they're exhausted day in and day out.
We see it. We live it. We live here. Not as observers. As members of the community. As neighbors and friends. Shining the light of hope into the community...


What are we up to?

We've got numerous ministries and services up and running and God-sized dreams for the future.
FAITHBRIDGE CONNECTS is a network of friends who can often help out when a family needs food or clothes. When contacted about a need, we reach into our network to see what's available. No guarantees, but it often is of help.
FAITHBRIDGE HELPS is a benevolence fund, available as funds are contributed, structured around meeting folks where they are but not leaving them there... which helps (as possible) with financial crisis in families.
FAITHBRIDGE KIDS provides an opportunity for kids to learn scripture, do crafts and games and engage in service projects for the community.
FAITHBRIDGE SISTERS meets every other Thursdays at 6PM for ladies to bond, share, learn and grow together. 
FAITHBRIDGE CWJC is our Christian Women's Jobs Corps, which is designed to help women in our community gain momentum in life through various training and serving opportunities.
FAITHBRIDGE NEIGHBORS is our program of active partnerships with some social service providers, municipal authorities and property managers to help them pull off great services such as Beginning with Books, Community Day, Crime Watch, available service distribution and much, much more.
FAITHBRIDGE'S JOHN17 programs partner with other ministries to assist with their events.
We also provide SPIRITUAL ADVISE for those in CRISIS, and have channels to get folks addiction help.
Things are changing for the better here--and we're not close to done. God's got great big plans. Most folks deplore the spiraling conditions in our poor areas... but God's showing us that He can turn the tide.
We're so glad that you've taken time to visit our website and hope you'll take the next step and become personally acquainted with our ministry.
If you have any questions or need help in any way, please feel free to contact us through E-mail or our contact form. We look forward to hearing from you.